Success Built on a Foundation of Training
USA University is the tool by which USA Parking ensures total guest and client satisfaction. We are customer focused! Our belief in energetic aggressive hospitality and guest service is why USA Parking is the dominant parking management company. We are known as the "Hospitality Parking Company®". For more than thirty-five (35) years, USA Parking has been building long lasting relationships based on this Corporate Philosophy.
Our deep commitment to training and developing our people ensure our clients the most qualified and highly trained workforce in the industry and it shows in our training spaces.
While we have subject matter experts (SME's) throughout our organization, the USA University team is made up of six (6) very passionate full time trainers who are dedicated to the quality and aggressive hospitality that USA Parking has become known for.
The signature training programs provided by USA Parking University are the way we differentiate ourselves from other parking management companies.
We are committed to quality assurance and it starts with our company's core values. We are dedicated to training.
We understand that getting off to a great start for a new client is critical. USA University has created transition teams called Transition Concierges.
A Comprehensive Approach to Training
Our new hire on-boarding orientations are fundamental to our success. We require forty (40) hours of training for all new associates. This training encompasses a company history, basic aggressive hospitality concepts, policies and procedures, loss prevention and Standard Operating Procedures introduction by position as well as PCI Compliance Training and Harassment Awareness Training.This seminar introduces USA's Mission Statement, Associate Promise, Ten Principles of Hospitality, The Three Service Steps and Customer Service Recovery Procedures. This presentation is our signature course.
USA has developed specialized training seminars to further develop our associates in the field. Periodic refresher seminars are offered and management attendance is required at all seminars. Seminar topics include: "Loss Prevention Techniques," "Interviewing, Selecting, Training Your Team," "Ramp/Driveway Control," "How to handle a function" and an advanced course in "Aggressive Hospitality Techniques." We can tailor our presentations using the brand standards of our client. This will insure alignment from our team to your team.
Detailed Standard Operating Procedures have been developed and are introduced to all new hires. This ensures that we are experts at what we do.
Our management institute develops our managers-in-training by using both classroom and hands-on mentorship training to prepare them for leadership positions.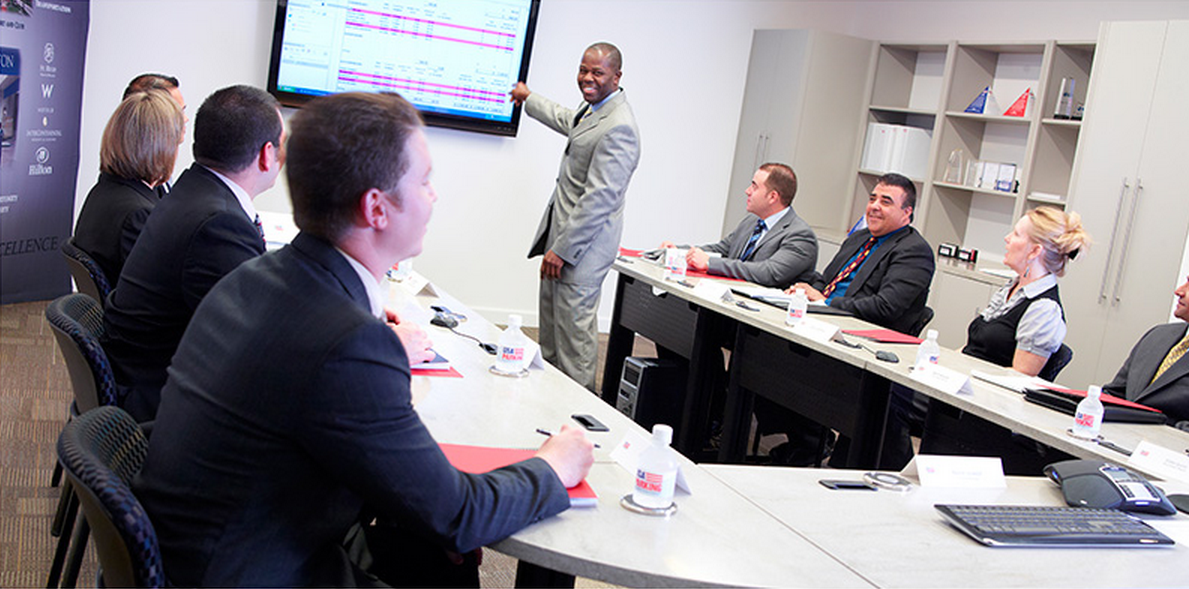 On Site Audits
Each quarter every property is visited and thoroughly audited by a certified trainer from USA University. Such audited areas are: Aggressive Hospitality, Overall Appearance, Operational Standards, Revenue Controls, Human Resources and Loss Prevention.
At USA Parking, "success is a journey, not a destination." Each associate, from new hires to management, attends up to forty (40) hours of yearly training and procedures seminars. Our training programs are designed for the maximum guest service impact at our parking operations. We believe in the concept of teamwork and it shows in our company policy regarding the pooling of all gratuities by our associates. That way, our guests are served in an unselfish and flexible manner. USA is dedicated to total guest satisfaction and the proof of this dedication is the creation of USA University. Teaching, coaching, counseling and continued training is the way to succeed in the service industry. Our associates take the time to open every vehicle door, greet each guest using name recognition and are prepared to meet any need our guest may have. At USA, we deliver Five Diamond service every day.